How have travel restrictions affected carbon emissions and air quality?
China's efforts to control the COVID-19 outbreak seem to have curbed energy consumption — and air pollution. Satellite data collected by NASA and the European Space Agency show a sharp reduction in atmospheric levels of nitrogen dioxide (NO2), which is produced during fossil fuel combustion, across the country.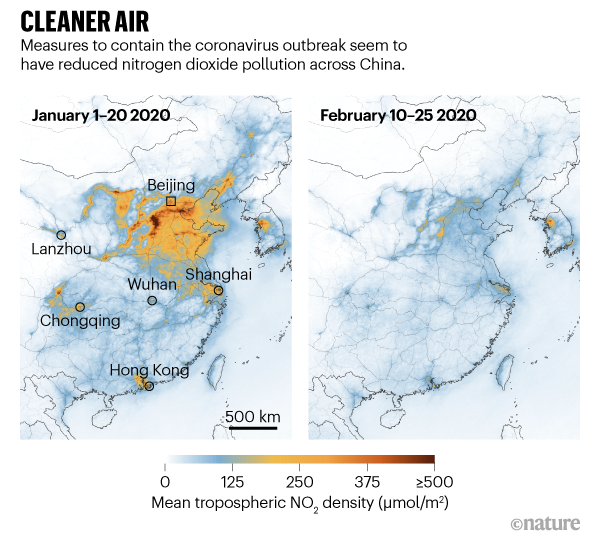 Each year, industrial activity typically drops off as businesses and factories close for celebrations of the lunar New Year, which this year began on 25 January. This usually causes a brief dip in levels of NO2. "Normally, the pollution levels pick back up after 7–10 days, but that has not happened this year," says Fei Liu, an atmospheric scientist at NASA's Goddard Space Flight Center in Greenbelt, Maryland. A preliminary analysis suggests that NO2 pollution after the lunar New Year was around 10–30% lower this year than during the same period in previous years. A similar trend of declining NO2 pollution has also been documented in northern Italy — where cities remain on lockdown — using data from the European Space Agency's Sentinel-5P satellite.
Ongoing efforts to contain the coronavirus have suppressed China's industrial activity by 15–40%, according to an analysis by the Centre for Research on Energy and Clean Air in Helsinki. Coal consumption hit a four-year low in February, and oil refining fell by more than one-third. Overall, the centre's analysis suggests that China's carbon emissions have dropped by more than 25% as a result of the ongoing efforts to contain the coronavirus.